This article was written by a SecretHotelTips reader who wanted to share her experiences in Las Vegas
Upon moving to Arizona three years ago the most often uttered phrase directed at me was: "Have you been to Vegas yet?" Now, as a non-gambler, non-drinker, non-smoker I felt as though I truly wasn't missing out on much. As the late Robin Williams said you can see the end of the world from Vegas; this, in my mind wasn't a ringing endorsement. But, when I actually did take the four hour drive from Phoenix a few months ago I didn't find the end of the world, rather the experience enthusiasts had promised.
My adventure began at the "Golden Nugget" (129 Fremont Street Las Vegas, NV 89101). This hotel/casino is located close to the main strip but not directly on it, which for a somewhat more budget conscious visitor suited me just fine. Though that's not to say Fremont street is by any means lacking in the glittering entertainment that aptly defines Vegas.
Once I had checked into the hotel and "window shopped" its slot machines and table games I ventured out to take in the night life. There I found myself amongst any and all kinds of street performances: human statues, musicians on makeshift drum kits, and of course some of the most scantily clad concert promoters I have ever laid eyes on.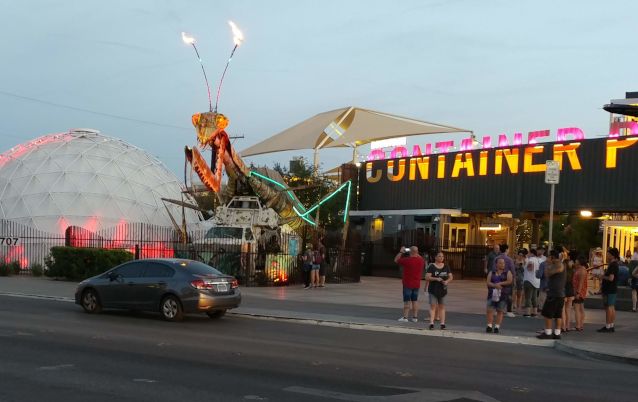 This area certainly lived up to the campy quality one might expect in Vegas, however that is not to demean the latent talent available there free of charge. Although the piece de resistance had to be the giant, mobile, flaming (and most importantly free!) praying mantis sculpture found in Container Park (707 Fremont Street). It was constructed by aerospace engineer Kirk Jellum out of recycled metal. This is definitely a photo op site. Besides the visual displays you can also indulge in some of the finest restaurants and shop at a plethora of stores and galleries; or you could follow my lead and savor the delicious greasy-ness of a White Castle burger, or five.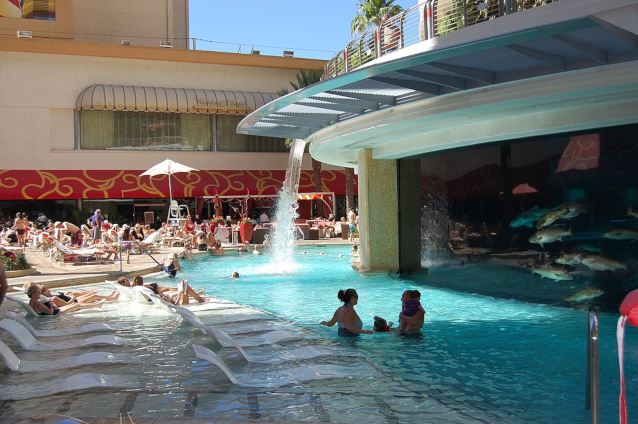 If you're an adrenaline junkie I recommend the cross town zip lines at SlotZilla Zip Line located at 425 Fremont St #160. Though they might not be the tallest, longest, or most thrilling it's worth it to get a bird's eye view of the city lights, FYI go at night the view is better and the ride is cheaper. If even these zip lines are too much for you I highly recommend the water slides to Golden Nugget guests. They're free and a portion of the slide takes you through the hotel's shark tank.
After calling it a night the spacious and comfortable room at the Nugget offered a relaxing respite from the Vegas night life. The bed was so cozy it was difficult to get myself out of bed the next morning. But, Vegas is not the place to miss out on completely exploring, therefore my second day was devoted to checking out the main strip.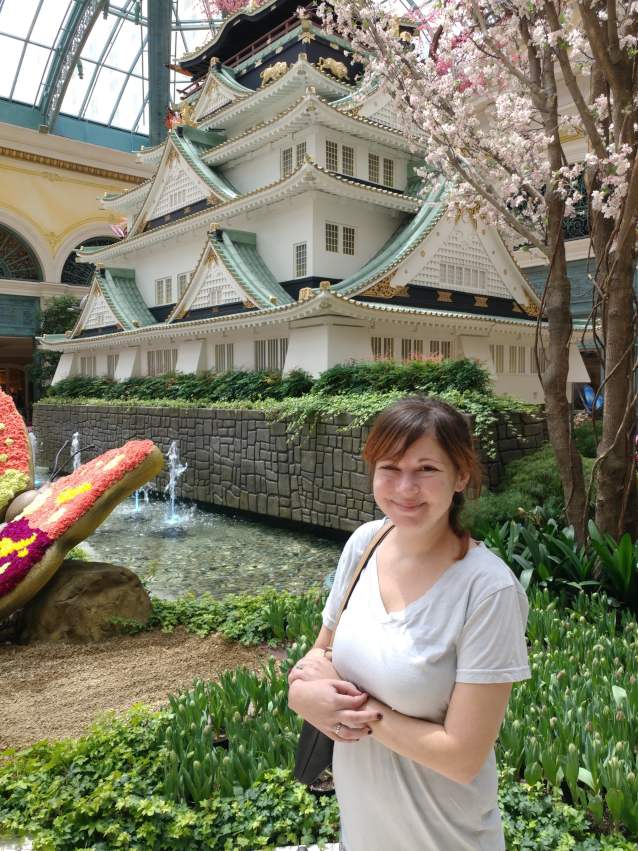 Again being a non-gambler I was skeptical of what amusement I would find. This skepticism was quickly silenced as I exited the parking garage into what seemed like a proverbial land of Oz. Though you can't visit every casino, gallery, or show in one day you can be sure no matter where you are you'll see something amazing. My personal favorite was the Bellagio Conservatory & Botanical Garden located within the Bellagio (3600 Las Vegas Blvd.) This free display of beautiful floral designs really astonished me and is a sight I would absolutely return to the city to see.
Ultimately, my trip to Vegas was nothing like what I anticipated and something I definitely intend to do again. My stay at the Gold Nugget was pleasant and affordable without the feeling like I was traveling on a budget. While the entertainment was enjoyable whether you were a high roller or just an average Joe. As I drove home through the canyon with money still in my pocket and a great deal of memories floating through my head I had to admit my trip to Vegas will not "stay in Vegas."