What is the Resort Fee?
Unfortunately, Hotel Resort Fees are still a legal way hotels can secretly double (or more) their nightly rate. The Resort Fee is a mandatory payment to the hotel at the end of your stay. It is based on the number of rooms and nights. If you stay two nights in one room, then you pay 2X the resort fee. It doesn't matter how many people are in the room.
How do I know if a hotel has a Resort Fee?
Resort Fees are not included in the nightly right so you need to find the fine print to see if there is a resort fee. It's often in small text near where you would book a room.

I prefer using the website What Resort Fee to find lists of which hotels charge resort fees and which do not, also the amount of the fee. An alternative is ResortFeeChecker.com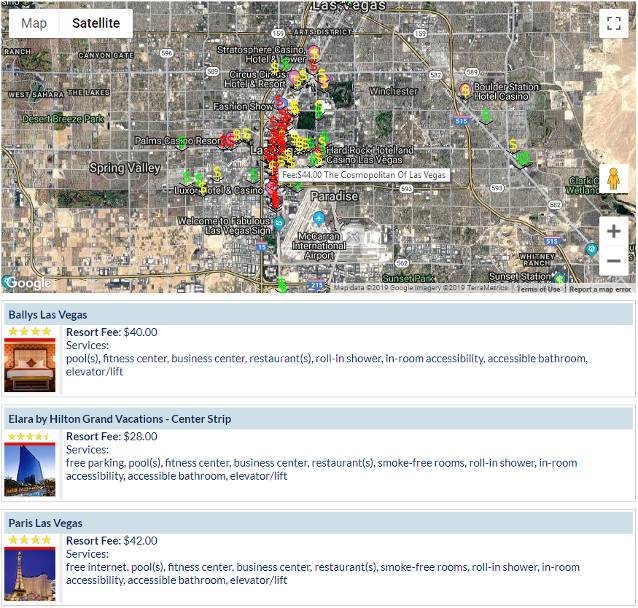 It's up to you to do your research ahead of time. Dig through the fine print when you're booking online to see exactly how much you will be charged for fees and taxes
Can I get the Resort Fee waived?
The short answer is: No. The Resort Fee is non-negotiable and there is no reliable tip or trick to get out of it. Hotels managers have already heard everything when it comes to people getting upset and not wanting to pay resort fees and most do not care anymore. That doesn't mean you shouldn't try yourself, just don't expect to succeed. These are some of the argumentative tactics people have used to get out of the Resort Fee in the past:
Mention how you didn't use any of the amenities the resort fee is supposed to cover, or they were broken. It's easy to find broken exercise equipment or faulty business computer terminals.
Plead complete ignorance that you were expected to pay a resort fee. Try including that this surprise payment will lead to a negative review on either their customer satisfaction survey or an online website. This is unlikely to have an effect on large popular hotels.
Ask not to have the Resort Fee removed but receive compensation some other way. Think membership points, a free voucher for the in-house restaurant, or a room upgrade. Many times the concierge has no control over the Resort Fee, but they can give you benefits in other ways.
Some casino hotels will waive the Resort Fee if you gamble enough. There are usually different tiers of players cards and the higher ones will either remove the Resort Fee or let you stay for free. Keep in mind, you are almost certainly losing more money on the casino floor than if you paid the nightly rate and resort fee up front.
Don't expect these to work. If there was a surefire way to avoid Resort Fees, then everyone would do it and hotel managers would wise up.
The site killresortfees.com has some additional advice to people who have been wronged by hotels abusing their fees:
Refuse to pay. Typically, this will result in you not having a room for the night; But sometimes you're just that irritated.
Create a dispute on your credit card. You'll have to prove to the credit card company that the Resort Fee isn't a legitimate expense, but that shouldn't be too difficult when most hotels can't clearly document what the Resort Fee is actually going towards.
Sue the hotel in small claims court. Since you'll have to pay some fees just to do this, it's really just a last resort to make things more difficult for hotel, or if you stayed multiple nights and your Resort Fee became hundreds of dollars.
These all come with some risk and it's unlikely the hotel will ever want to see you again.
Why are Resort Fees Contagious?
You've probably noticed that when one or two hotels start using Resort Fees more always follow. This is especially evident in Las Vegas where 20 years ago there were no resort fees and now just about every hotel on the strip has them.
The hotels that use resort fees first lower their nightly rates proportional to the new resort fee. People flock to the new cheaper nightly rates, even though the end price is the same or higher than neighboring hotels. These people often only realize they were duped well after they made reservations. For the neighboring hotels to remain competitive with the ostensibly low rates, they need to scam their guests with resort fees as well.
In the end, you get a situation like Las Vegas where every hotel has high Resort Fees and low nightly rates. In some egregious situations, the Resort Fee is even higher than the nightly rate. This can be seen at some of the budget Las Vegas Strip hotels such as Circus Circus or Excalibur.
Resort Fees Are here to stay
Currently there is no legislation in America to either eliminate Resort Fees or make them more apparent when booking a hotel. Right now the only way to know the total cost of a stay in a Las Vegas hotel is to go through the booking process to read the fine print, or wait until the bill at the end of your stay.