Normally I take the long 6 hour drive through the desert to get from Phoenix to Los Angeles. However, after many trips I have found the drive to be extremely dull, so this time I took the bus!
FlixBus is a European bus company that started serving the American South West. Some of the advantages to it are:
Free Wi-Fi (but only 300MB per day)
Chemical toilets in the back of each bus
Power outlets in seats
Generally cheaper than greyhound
They also have a pretty great app that you can use on your phone to both book your trip and show to the bus driver to check in. Basically like an airplane.
For both departing and returning trips I booked on the app a day ahead of time. I didn't notice much price difference from booking earlier or last minute, but this depends on the day. Friday and Sunday bus trips will be busier and thus more expensive. You can also use the price to see how full the bus is likely to be. My guess is that the first 70% of seats are at the base rate and then it starts increasing from there. The price is definitely less than what it would cost to fill up my gas tank with enough gas to reach Los Angeles.
First, getting to the bus stop can be a little tricky. The stop is outside the PHX airport at the Sky Train terminal. It is NOT at the light rail station. If you are taking the light rail then you exit at the 44th St/ Washington station and then go up the stairs and across the canal to the Sky Train station. The bus will arrive outside near the Charter Bus sign. Everyone who arrived there asked if this was the correct place because it is not obvious at all.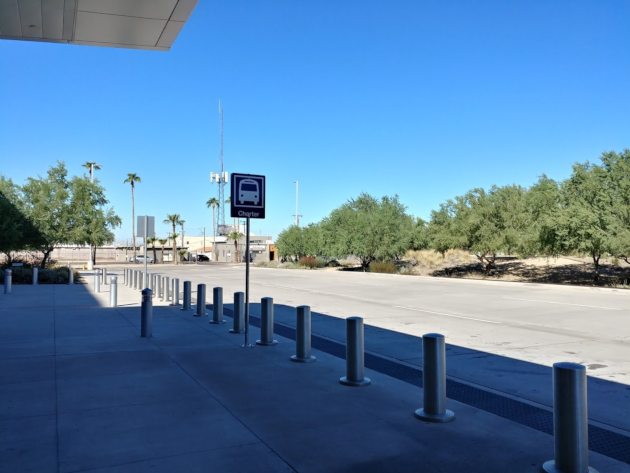 Since I rode the bus twice, there and back, I experience too completely different ways of checking in. On the way there I merely told the driver my name and showed him my driver's license. On the way back I only had to show the driver my ticket QR code on my phone. Even if you have a seat number on your ticket, it didn't matter and every just picked any seat available. Both times someone was already in my designated seat, but it didn't matter since there was plenty of seating.
The seats are not too bad, a little better than flying airplane coach. Slightly more leg room. The power outlets are also very useful. Be aware the last two rows might not have power outlets since those seats are removable for people in wheelchairs. There's also a toilet in the back, which is cramped, but gets the job done if you need to go during transit. The bus stops twice between Phoenix and Los Angeles: Blythe and Palm Springs. The stops are generally about half an hour and in an area with nearby fast food restaurants.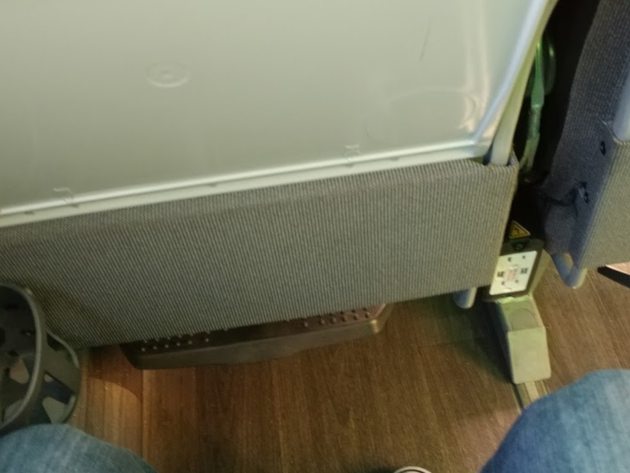 The WiFi was okay, I didn't like the hard data limits so that eliminated any video watching. But you could still browse the internet or read emails. Since the internet is from cellular towers, it didn't work in the middle of nowhere or between large mountains. There are about a dozen movies and other media that is hosted locally on the bus that you can watch without hitting data limits. I'm sure if you were the technical type you could easily blow past data limits on your Linux device by changing your MAC address since there was no signing in involved to get the free WiFi.
The people on the bus were mostly students and other working class people. I was worried about the horror stories you might get from Greyhound buses, but everyone more or less kept to themselves. It definitely didn't seem any different from what you'd see flying on an airplane.
I'd say there are some negatives to taking the bus over driving. One is that it takes significantly longer. This is especially true if you, like me, took public transportation to get to the FlixBus bus stops. It took about 3 hours longer than if I just straight up got in my car and drove. Another disadvantage was that the returning bus ride was much too cold inside the bus. I didn't have a jacket because it was in the 90s in both Phoenix and Los Angeles at that time. But it was much too cold in the bus from the air conditioning to be comfortable or sleep.
Other than that I would recommend taking FlixBus! If you have plenty of time and remember a jacket it should be a pretty relaxing and easy trip. You can also save money if you are traveling alone since all the fares I saw were lower than the cost of gas. I also saw routes to Las Vegas which I might try at some point!