Everyone at some point in their life should take themselves or their family to Orlando: One of the best getaways in America. Keep in mind your hotel choice can make your vacation into a favorite memory or a nightmare to never mention again.
One of the key factors in finding cheap hotels is timing. You want to book nights during the least busy times. Theme parks have light attendance during the week and when students are in school. The early fall until Thanksgiving is a good time, or in the winter months after the Christmas holidays and before Spring Break starts ramping up. Avoid holidays completely. Basically you want to plan vacations inverse to everyone else. If you can, work at your job during the usual "holidays" season and then plan your vacation a few weeks later either in January or February. Don't worry, Orlando is pleasant year-round. Except during the peak summer months when it frequently rains.
The second variable you need to account for is location. You want your hotel to be close to the parks you want to visit so you don't waste time commuting. To avoid lines you want to get to the park as early as possible. You might also have time to go to a different park in the evening if you plan well. Some hotels provide shuttles that will take you back and forth to popular destinations so that you won't even have to rent a car.
Here is a list of some hotels I have stayed at that are great deals during the off season and will help you find your dream vacation experience
The Grand Orlando Resort at Celebration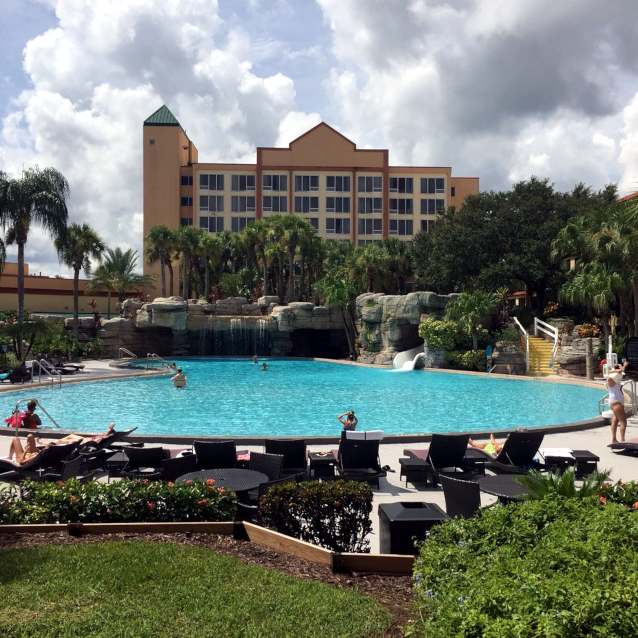 The Grand Orlando is a great hotel if you want to save money but don't want to sacrifice a resort experience. During the off season you can easily find nights at this hotel comparable to Motel 6 rates, even with the mandatory $25 resort fee added in. Parking is $13/night. There is a free shuttle that will take you to the local parks, but the times and service can be spotty. Even so, Disney is only 10 minutes away and it's easy to use a rideshare from the hotel to get anywhere cheaply. Breakfast is served in the on-site restaurant for $15/person. There are restaurants and in IHOP nearby if you wanted to save on food costs.
Melia Orlando Suite Hotel at Celebration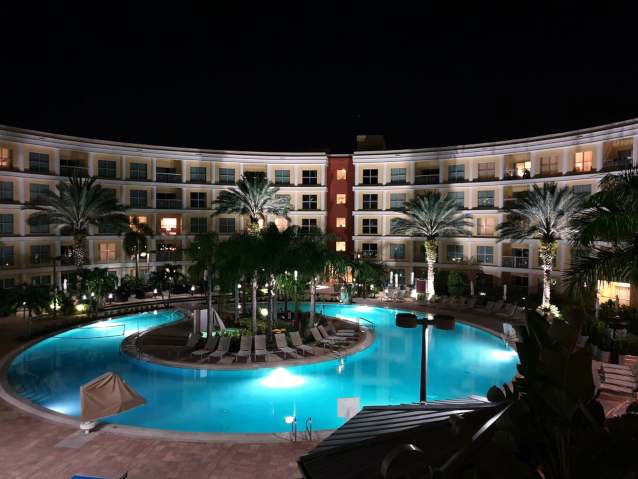 The Melia is a terrific resort centrally located and easy to get to. It will cost slightly more than The Grand, but it is also a nicer hotel. There is a $23 mandatory resort fee, but parking is free. You can get rooms with a kitchen if you want to cook your own food to save money. There's a Publix a block away as well to help you stock up. The pool here is also pretty nice and makes a great place to relax for adults or children.
B Resort & Spa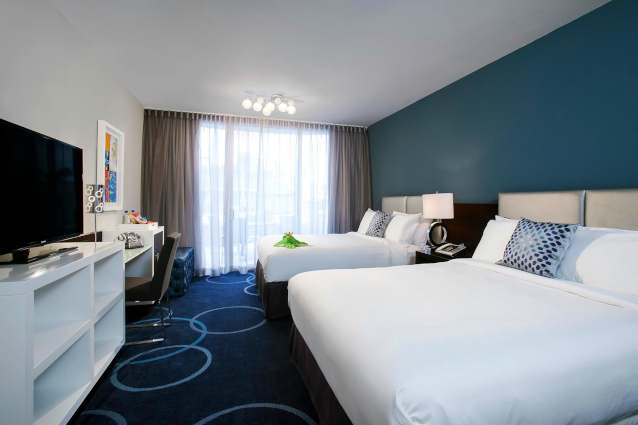 The B resort is another great hotel destination close to Disney. Deals can be had at this hotel for around $100/night but watch out for the extra fees. There's a mandatory $30/night resort fee and parking is $22/day. It costs less to rent a car! Breakfast is a buffet that also costs a pricey $22 per person. This is a pricier hotel for sure, but it is pretty nice and you will feel safe having your family sleep here. But if you want to save money, don't bring a car and eat somewhere else.